The Teens Top Ten is sponsored by YALSA (the Young Adult Library Services Association). Sixteen book groups from around the country nominated these 25 books.  Voting is open now until September 16. Go to ala.org/teenstopten to vote for your favorites. The winners will be announced during Teen Read Week October 16 – 22.
Click the book cover to check a title's availability.
Drought by Pam Bachorz
YA Bachorz
Ruby's blood holds the secret to the Water that keeps her and her fellow Congregants alive and enriches Darwin West, who has enslaved them for two centuries, but when her romance with an Overseer, Ford, brings her freedom in the modern world, she faces a terrible choice.
J, who feels like a boy mistakenly born as a girl, runs away from his best friend who has rejected him and the parents he thinks do not understand him when he finally decides that it is time to be who he really is.
You Killed Wesley Payne by Sean Beaudoin
YA Beaudoin
When hard-boiled, seventeen-year-old private investigator Dalton Rev transfers to Salt River High to solve the case of a dead student, he has his hands full trying to outwit the police, negotiate the school's social hierarchy, and get paid.
Zombies vs. Unicorns
compiled by Justine Larbalestier & Holly Black
YA Zombies
Twelve short stories by a variety of authors seek to answer the question of whether zombies are better than unicorns.
The Lost Gate by Orson Scott Card
FIC Card (adult fiction section)
Danny grew up in a family compound in Virginia, believing that he alone of his family had no magical power. But he was wrong. Kidnapped from his high school by a rival family, he learns that he has the power to reopen the gates between Earth and the world of Westil.
Clockwork Angel by Cassandra Clare
YA Clare
When sixteen-year-old orphan Tessa Fell's older brother suddenly vanishes, her search for him leads her into Victorian-era London's dangerous supernatural underworld, and when she discovers that she herself is a Downworlder, she must learn to trust the demon-killing Shadowhunters if she ever wants to learn to control her powers and find her brother.
Mockingjay by Suzanne Collins
YA Collins
Against all odds, Katniss Everdeen has survived the Hunger Games twice. But now that she's made it out of the bloody arena alive, she's still not safe. The Capitol wants revenge … and President Snow has made it clear that no one else is safe!
Love, Inc. by Yvonne Collins & Sandy Rideout
YA Collins
When three fifteen-year-old Austin, Texas, girls who met in group therapy discover that they are all dating the same boy, they first get revenge and then start a wildly successful relationship consulting business.
Matched by Ally Condie
YA Condie
All her life, Cassia has never had a choice. The Society dictates everything: when and how to play, where to work, where to live, what to eat and wear, when to die, and most importantly to Cassia as she turns 17, who to marry. When she is Matched with her best friend Xander, things couldn't be more perfect. But why did her neighbor Ky's face show up on her match disk as well?
Nightshade by Andrea Cremer
YA Cremer
Calla and Ren have been raised knowing it's their destiny to mate with one another and rule over their shapeshifting wolf pack, but when a human boy arrives and vies for Calla's heart, she's faced with a decision that could change her whole world.
Crescendo by Becca Fitzpatrick
YA Fitzpatrick
Sequel to: Hush, hush.
Sixteen-year-old Nora Grey struggles to face the truth while coping with having a fallen angel boyfriend named Patch and unraveling the mystery surrounding her father's death.
Lies by Michael Grant
YA Grant
A Gone book. As conditions worsen in the FAYZ, where supernatural forces have trapped children under the age of fifteen and resources are running out, it becomes tempting to heed the words of a prophet who says that only death will set them free.
Demonglass by Rachel Hawkins
YA Hawkins
Sequel to Hex Hall.  After learning that she is capable of dangerous magic, Sophie Mercer goes to England with her father, friend Jenna, and Cal hoping to have her powers removed, but soon she learns that she is being hunted by the Eye–and haunted by Elodie.
Hex Hall by Rachel Hawkins
YA Hawkins
When Sophie attracts too much human attention for a prom-night spell gone horribly wrong, she is exiled to Hex Hall, an isolated reform school for wayward Prodigium, a.k.a. witches, faeries, and shapeshifters.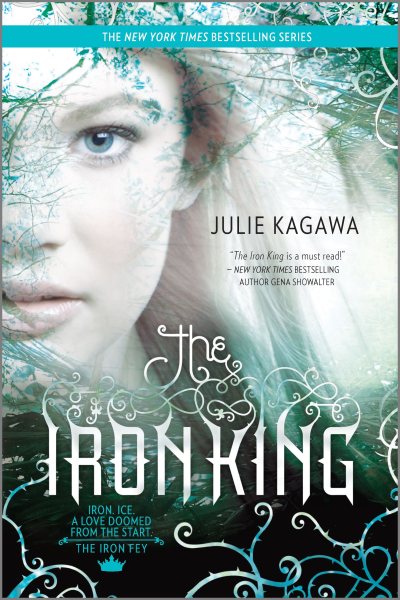 The Iron King by Julie Kagawa
YA Kagawa
Meghan Chase has a secret destiny–one she could never have imagined…Something has always felt slightly off in Meghan's life, ever since her father disappeared before her eyes when she was six. She has never quite fit in at school…or at home. When a dark stranger begins watching her from afar, and her prankster best friend becomes strangely protective of her, Meghan senses that everything she's known is about to change. But she could never have guessed the truth–that she is the daughter of a mythical faery king and is a pawn in a deadly war. Now Meghan will learn just how far she'll go to save someone she cares about, to stop a mysterious evil no faery creature dare face…and to find love with a young prince who might rather see her dead than let her touch his icy heart.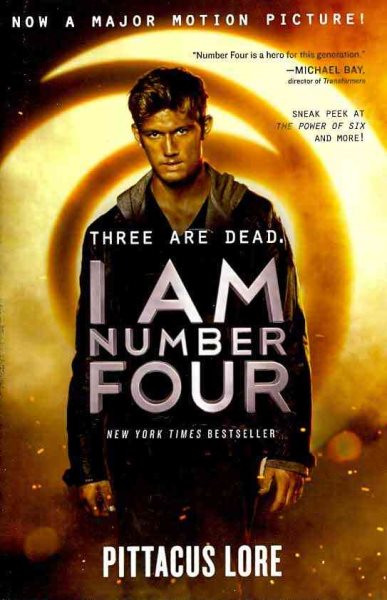 I Am Number Four by Pittacus Lore
YA Lore
In rural Ohio, friendships and a beautiful girl prove distracting to a fifteen-year-old who has hidden on Earth for ten years waiting to develop the Legacies, or powers, he will need to rejoin the other six surviving Garde members and fight the Mogadorians who destroyed their planet, Lorien.
Red Moon Rising by Peter Moore
YA Moore
In a world where vampires dominate and werewolves are despised, a teenaged half-vampire discovers his recessive werewolf genes are developing with the approaching full moon.
The Sky is Everywhere by Jandy Nelson
YA Nelson
In the months after her sister dies, seventeen-year-old Lennie falls into a love triangle and discovers the strength to follow her dream of becoming a musician.
Before I Fall by Lauren Oliver
YA Oliver
After she dies in a car crash, teenage Samantha relives the day of her death over and over again until, on the seventh day, she finally discovers a way to save herself.
The False Princess by Ellis O'Neal
YA O'Neal
For sixteen years, Nalia has been raised as the princess of Thorvaldor, but one day she learns that her real name is Sinda and that she is part of a complicated plot that would change the future of her country forever.
Angel: A Maximum Ride Novel by James Patterson
YA Patterson
Heartbroken after her best friend and soul mate, Fang, leaves her flock, Maximum Ride begins to believe the evil scientists trying to convince her she needs to save the world, and that Dylan, the newest member of her flock, is her perfect mate.
Sisters Red by Jackson Pearce
YA Pearce
Also available as a book on CD
After a Fenris, or werewolf, kills their grandmother and almost kills them, sisters Scarlett and Rosie March devote themselves to hunting and killing the beasts that prey on teenaged girls, learning how to lure them with red cloaks and occasionally usingthe help of their old friend, Silas, the woodsman's son.
Blessed by Cynthia Leitich Smith
*on order for Chicopee Public Library, click on the book cover to place a hold on a copy from another library.
Even as teenaged Quincie Morris adjusts to her appetites as a neophyte vampire, she must clear her true love, the hybrid-werewolf Kieren, of murder charges; thwart the apocalyptic ambitions of Bradley Sanguini, the vampire-chef who "blessed" her; and keep her dead parents' restaurant up and running before she loses her own soul.
Behemoth by Scott Westerfeld
YA Westerfeld
Continues the story of Austrian Prince Alek who, in an alternate 1914 Europe, eludes the Germans by traveling in the Leviathan to Constantinople, where he faces a whole new kind of genetically-engineered warships.
Sequel to Leviathan.
Paranormalcy by Kiersten White
YA White
When a dark prophecy begins to come true, sixteen-year-old Evie of the International Paranormal Containment Agency must not only try to stop it, she must also uncover its connection to herself and the alluring shapeshifter, Lend.